"…in that dark room and the big picture and the right sound, it's all a good thing"
Way back in 2007 I was at the NFT for a showing of Lynch's Inland Empire, followed by an interview with Lynch by Mark Kermode.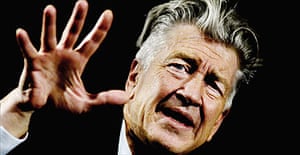 After a dark, unsettling and bemusing 3 hours, Lynch appeared to rapturous applause and the interview took place, Lynch being his usual buoyant, hand-waving, and wonderfully, almost belligerently, un-explaining self, after which Kermode threw it out for a Q&A. My hand shot up after each answer but sadly I was never picked (I'm choosing to blame quiff envy on Mr. Kermode's part).
My question would have been concerning the background sound design in Lynch's films, the tones, the drones, the buzzes, the hums, the distant and muted mechanical sounds that pervade so much of his work. Ever since seeing Eraserhead, I've always thought that if these ambient, background atmospheres were released on CD that they would sell. I'd certainly buy 'em.
In fact, it was with this thought in mind that I made my David Lynch's Discreet Atmospheres Of Dark And Troubling Things Mixcloud.
Now, however, in lieu of a CD release (but then who the hell buys CDs other than me?) in fact, in lieu of any kind of official release, someone who goes by the name Beyond Reason on Youtube has gone through all of Twin Peaks: The Return and stripped the dialogue from certain scenes, leaving only the atmospheres behind, only the beautiful, reverberating dread and tonal strangenesses. They call their project Listen to the Sounds.
They say: "When removing the dialogue audio channel from Twin Peaks episodes, it is nice to discover the rich tapestry of sound design hidden underneath. Listen to the sounds extracts these layers for you personal enjoyment. This is a compilation of all the sequences previously uploaded separately on this channel to enjoy as a single experience."
And the result is as close to my dream as anything I'm likely to get. As an added bonus, each track is accompanied by a snippet of the appropriate scene in ultra, dreamlike slow-motion.
Watch, listen and  d r e a m  HERE.